Storms Likely this Afternoon, Some Strong… Midday Tuesday Update #alwx @wvua23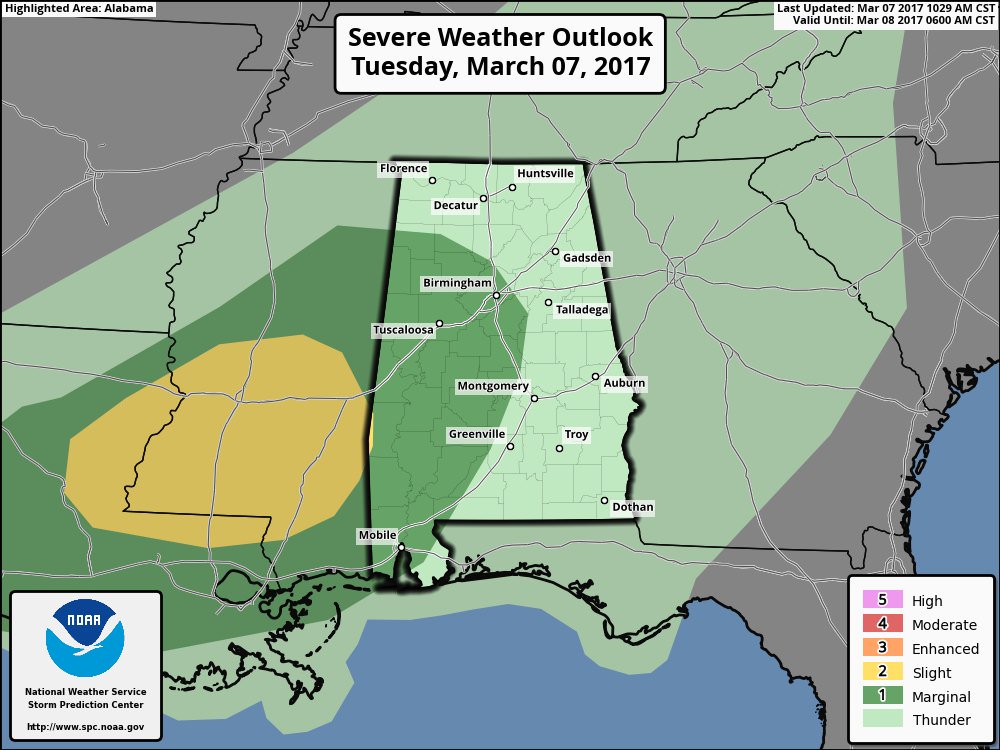 The Storm Prediction Center has removed the slight severe weather risk for our local area, which based off trends and new model data, I think that was a good move. Yes, we will get strong storms in our area this afternoon, but the chance of damaging winds, hail and tornadoes just does not seem like a threat with this setup.
At 12:15pm, storms are impacting the Hamilton area now. The I-59 corridor (Tuscaloosa to Birmingham to Gadsden) will be impacted around 2pm to 4pm. The HWY 80 corridor (Demopolis to Selma to Montgomery) will be impacted between 3pm and 6pm. Expect heavy rain and intense lightning along the leading edge of the line for 30 minutes or so, then a period of light to moderate rain for an additional hour or two.
By 6pm, strong storms will be well south of central Alabama. Rain amounts of 1 to 2 inches appear likely today.
For more updates, go to the weather blog at wvua23.com, scroll to the weather tab and click weather blog. Updates are also on our Facebook and Twitter page. My twitter is @RichardWVUA23 and facebook is WVUA23RichardScott
Join us live on WVUA23 weekdays at 5, 6 and 10:00 P.M. and weekends at 10PM for the very latest on your news, weather and sports.
Richard Scott
WVUA Chief Meteorologist
rscott@wvua23.com
Twitter: RichardWVUA23
Facebook: WVUA23RichardScott